20 words introduced or popularized by cartoons
Stacker compiled a list of 20 words created or popularized by cartoons, consulting historical resources, news articles, and research articles.
Posted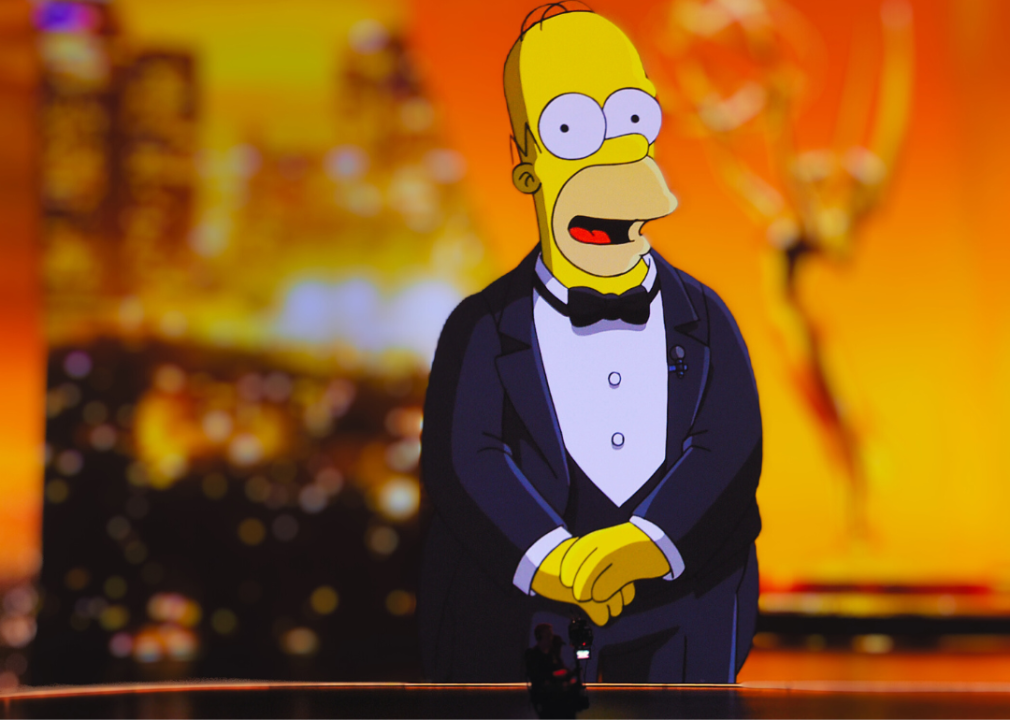 Kevin Winter // Getty Images
Pop culture's impact on the ever-evolving world of language cannot be overstated. How words enter the lexicon is often a reflection of the times, with particular words becoming popular for capturing the zeitgeist in a way that resonates with the general population.
Cartoons, in particular, have a propensity for introducing original, relevant language, as the art form spans political cartoons, animated films, TV, and more. Many parody or reference existing political phenomena and enter the history books, like McCarthyism; others become popular interjections or exclamations, like Homer Simpson's infamous, exasperated "D'oh." Still, some, like Superman's "kryptonite," have transcended the fictional bounds of their creators and taken on new meanings.
Once beyond the imaginary realm, words from cartoons are often incorporated into marketing campaigns and merchandise, further sealing their place in the cultural lexicon and into common, everyday use.
Regardless of each word's unique path to existence, the longevity of these terms in the public's vocabulary serves as a testament to the impact of entertainment on how we express ourselves. Consulting historical resources, news articles, and research articles, Stacker compiled a list of 20 words invented or popularized by cartoons.
McCarthyism: The Washington Post editorial cartoons by Herblock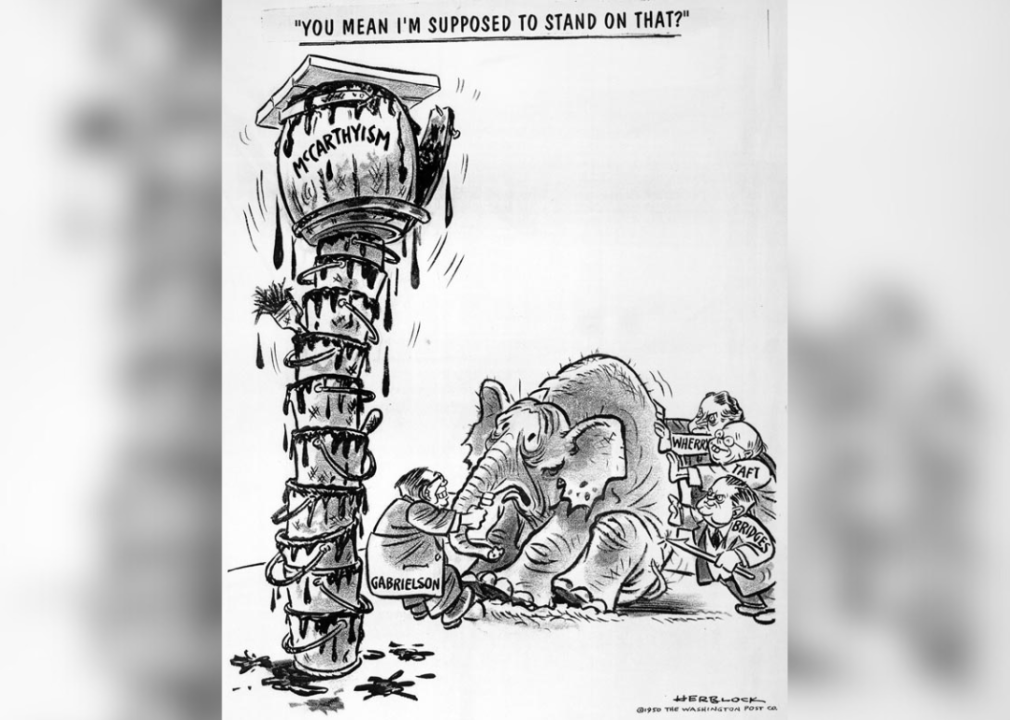 Library of Congress
Herbert Block (commonly called Herblock) was an influential political editorial cartoonist for The Washington Post and a fervent critic of politician Joseph McCarthy. The term was first used on March 29, 1950, when Block published a comic titled "You mean I'm supposed to stand on that?" in which Republican senators push a panicked elephant toward an unsteady tower labeled "McCarthyism." The word has since been used to describe the Red Scare period in American history and, in a more generic sense, unjust political persecution or defamation.
Milquetoast: 'The Timid Soul'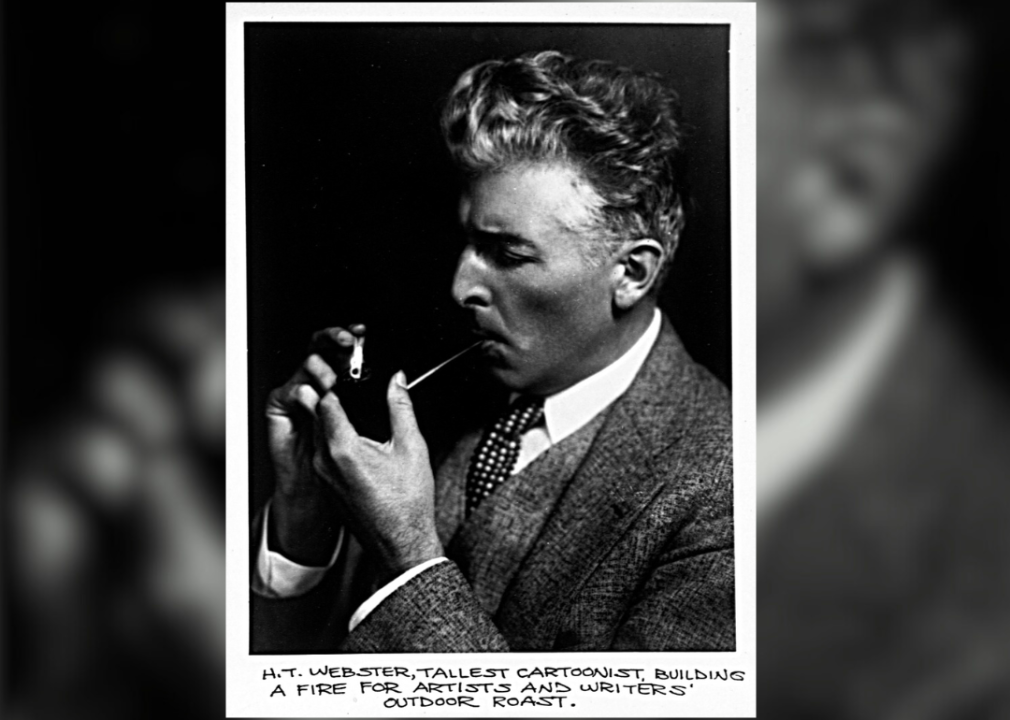 Oscar White // Getty Images
Cartoonist H.T. Webster enjoyed a moderately successful career at a Chicago-based newspaper until he joined the New York Tribune in 1912 and created "The Timid Soul" in 1924, a comic strip featuring the overly polite character Caspar Milquetoast.
With a homonymous last name derived from the snack "milk toast," Milquetoast was an overly passive, bland character reminiscent of his namesake. The strip became so popular that "milquetoast" continues to be used to describe a timid, unassertive person.
Goon: 'Popeye'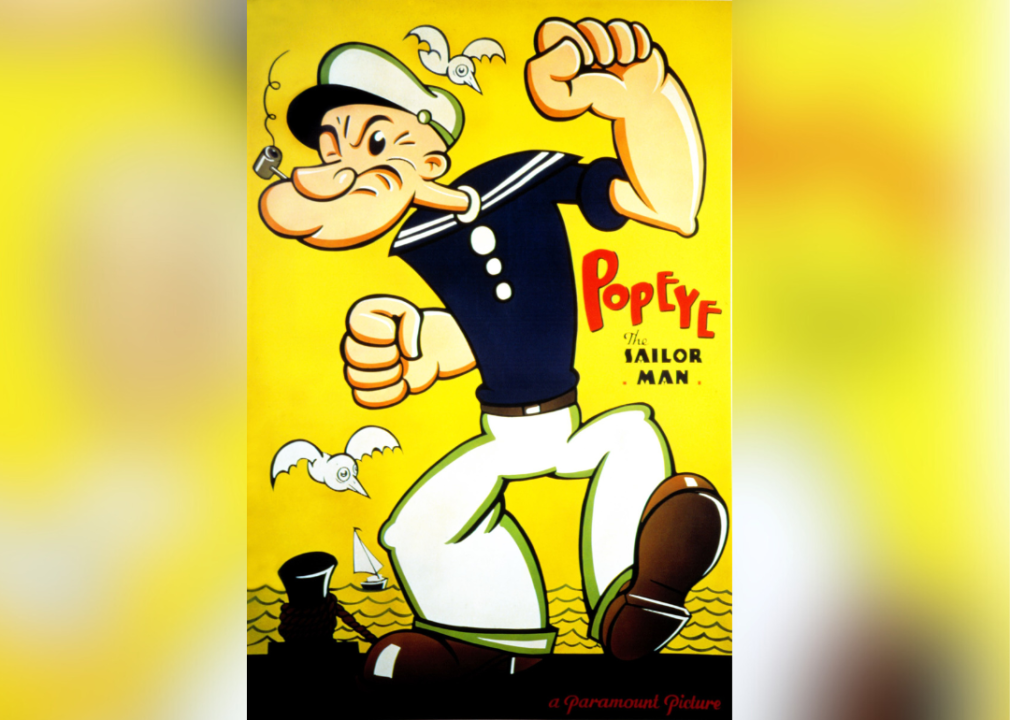 LMPC // Getty Images
While the word "goon" may have origins as early as the 16th century, it did not catch on in its modern form until 1933. E.C. Segar, the creator of "Popeye," introduced foolish but large characters to his comic strip and named them goons, the most famous of which was Alice the Goon. Due in part to the comic strip's popularity at the time, the word soon entered the lexicon to describe an unintelligent bully.
Newlywed: 'The Newlyweds and their Baby'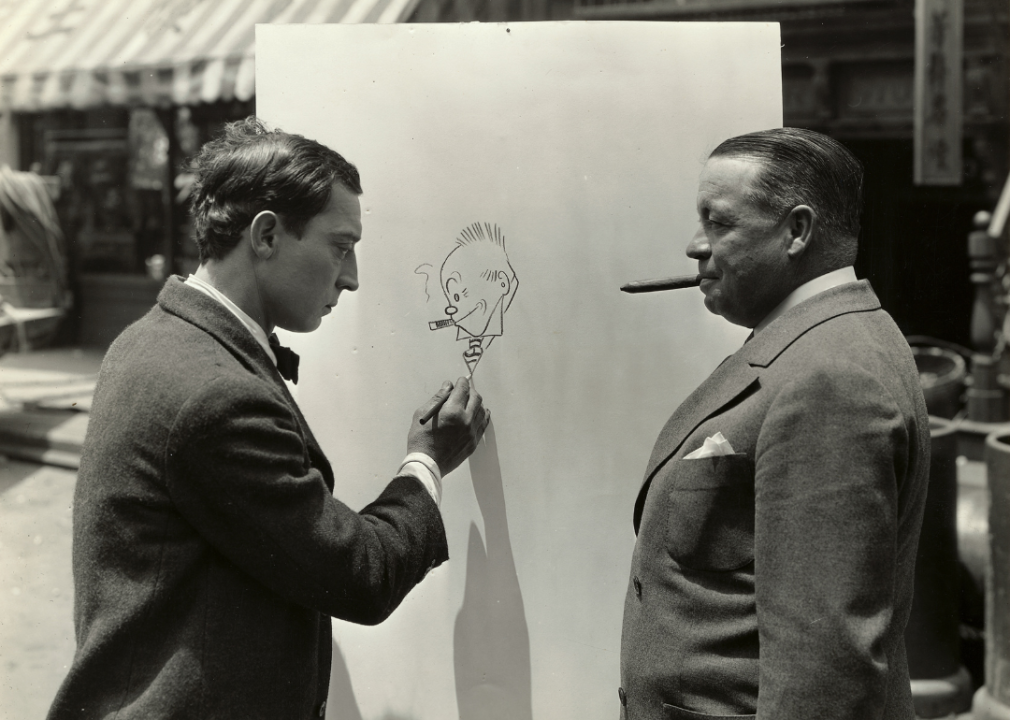 Bettmann // Getty Images
Before 1904, a person who recently married could be "newly wed," but they could not be a "newlywed." The word did not catch on in its noun form until George McManus' "The Newlyweds and Their Baby" comic strip gained popularity as the first cartoon strip depicting an American family. The word has served as a synonym for honeymooners ever since.
Worrywart: 'Out Our Way'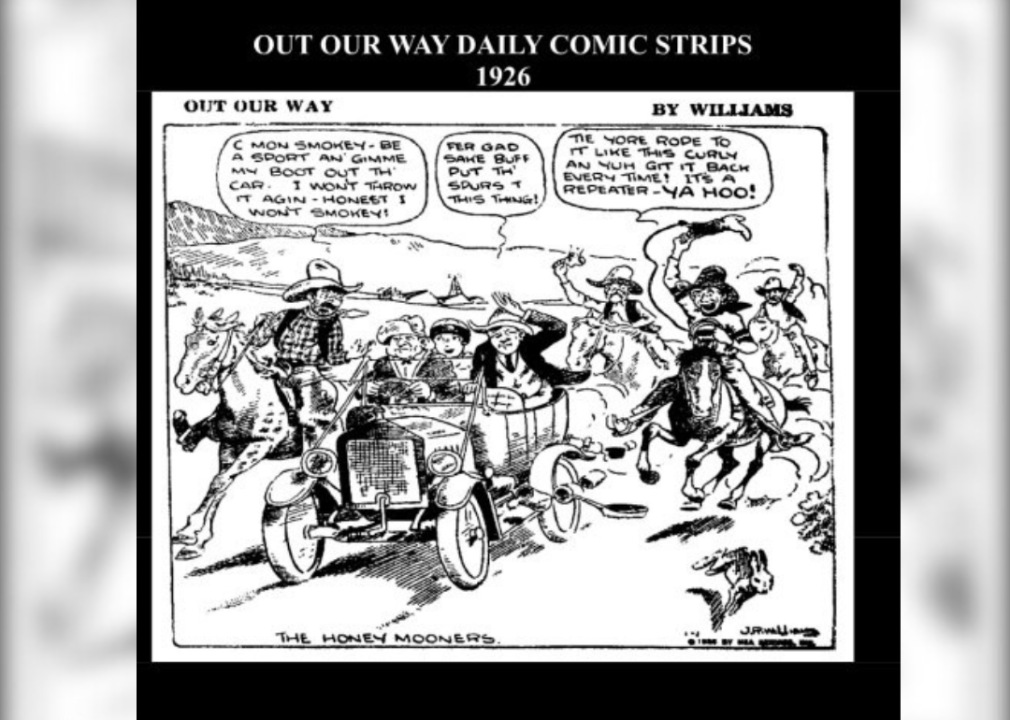 Create Space Independent Publishing Platform
Created by J.R. Williams in 1922, "Out Our Way" was a single-panel American comic strip that ran for over 50 years. One recurring character was a young boy nicknamed Worry Wart, known for causing others to worry over his antics. However, the term has since evolved to describe the opposite: a person who worries excessively about themselves.
Poindexter: 'Felix the Cat'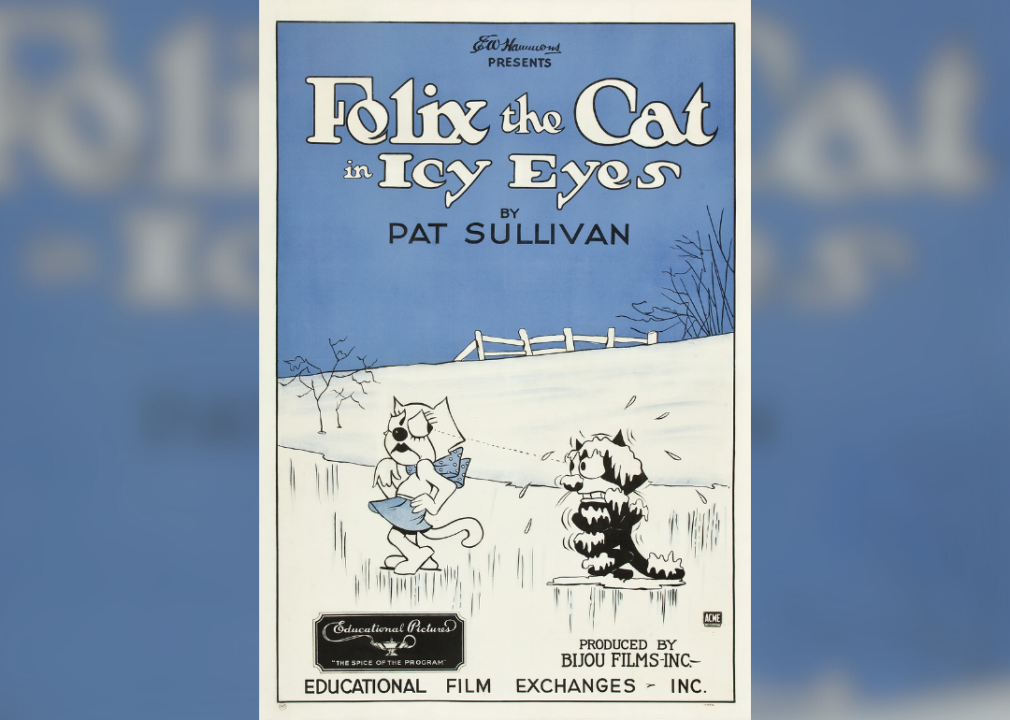 LMPC // Getty Images
Felix the Cat's legacy is immortalized not only in the history books as the first animated film star but also imprinted in the dictionary. Introduced as a comic strip in 1919 by producer Pat Sullivan and animator Otto Messmer, the titular character eventually appeared on its own TV series, co-starring a child-genius character named Poindexter. Today, "poindexter" is used in slang to describe an intelligent but socially inept person.
Brainiac: 'Superman' comic books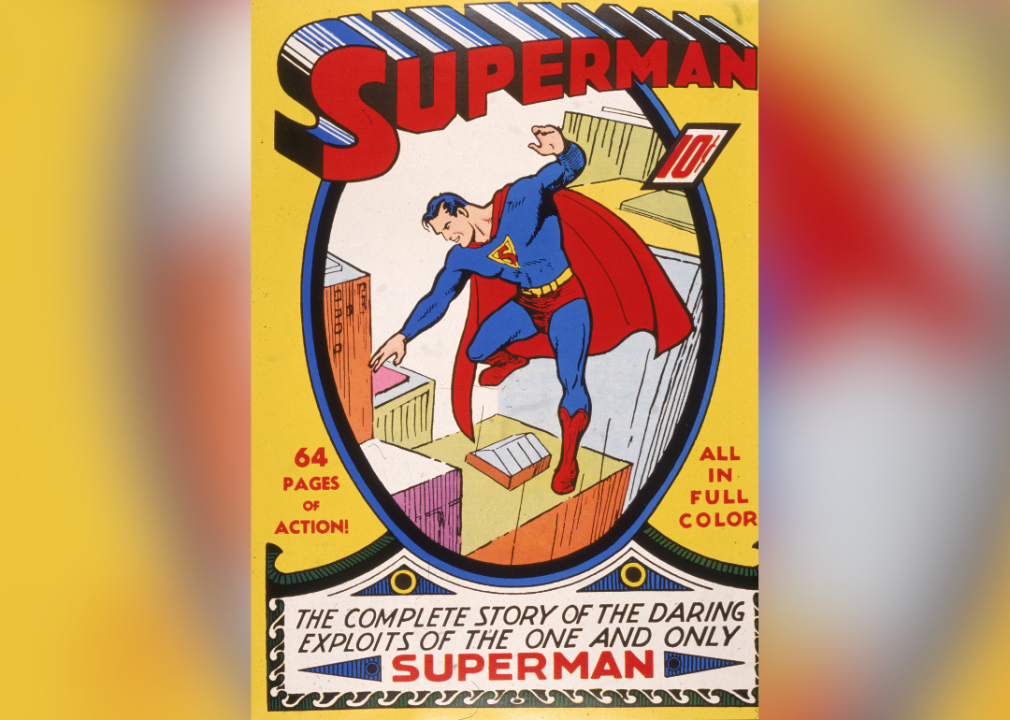 Hulton Archive // Getty Images
Another moniker for an intelligent person, the word "brainiac" originated in the "Superman" comic book series as the name of a new character. In "Action Comics" #242, issued in 1958, Brainiac makes his first appearance as an extraterrestrial, superintelligent villain. The word's first known use outside of the comic book world, however, took place years later, sometime in the 1970s.
Embiggen: 'The Simpsons'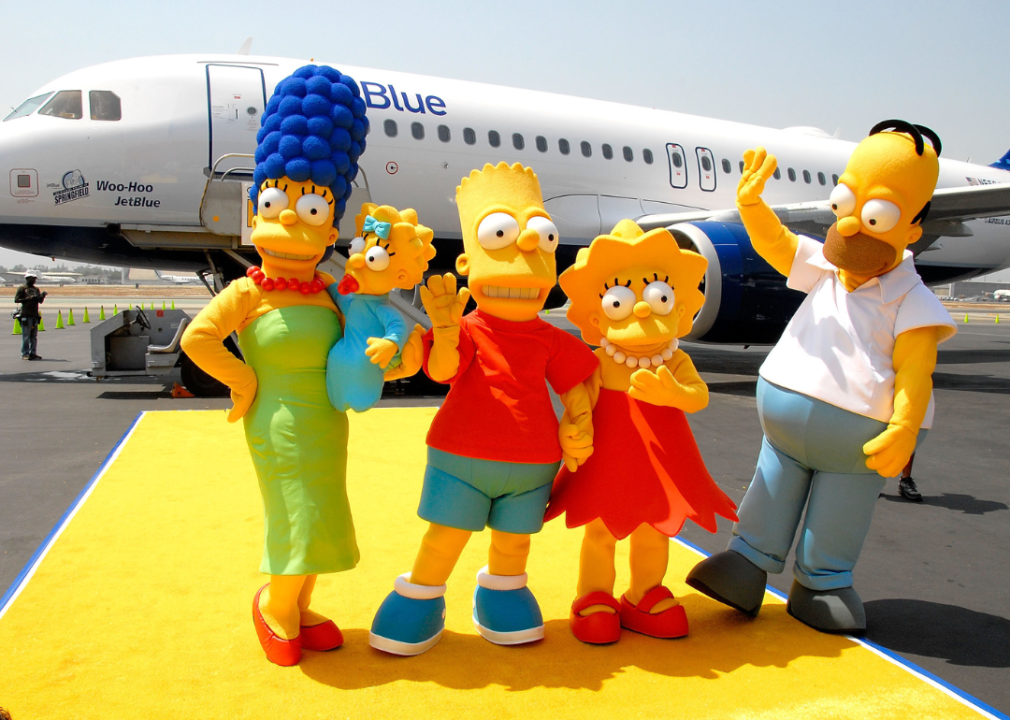 Barry King // Getty Images
"Simpsons" fans everywhere know "a noble spirit embiggens the smallest man," given the phrase is the revered motto of the fictional town of Springfield. Just over two decades after Bart's teacher, Ms. Krabappel, mentioned never hearing of the word until she moved to Springfield on Season 7, Episode 16, "Lisa the Iconoclast," the term — meaning "to make bigger or more expansive," per Merriam-Webster — was officially added to the dictionary in 2018. After all, it is a perfectly cromulent word.
Cromulent: 'The Simpsons'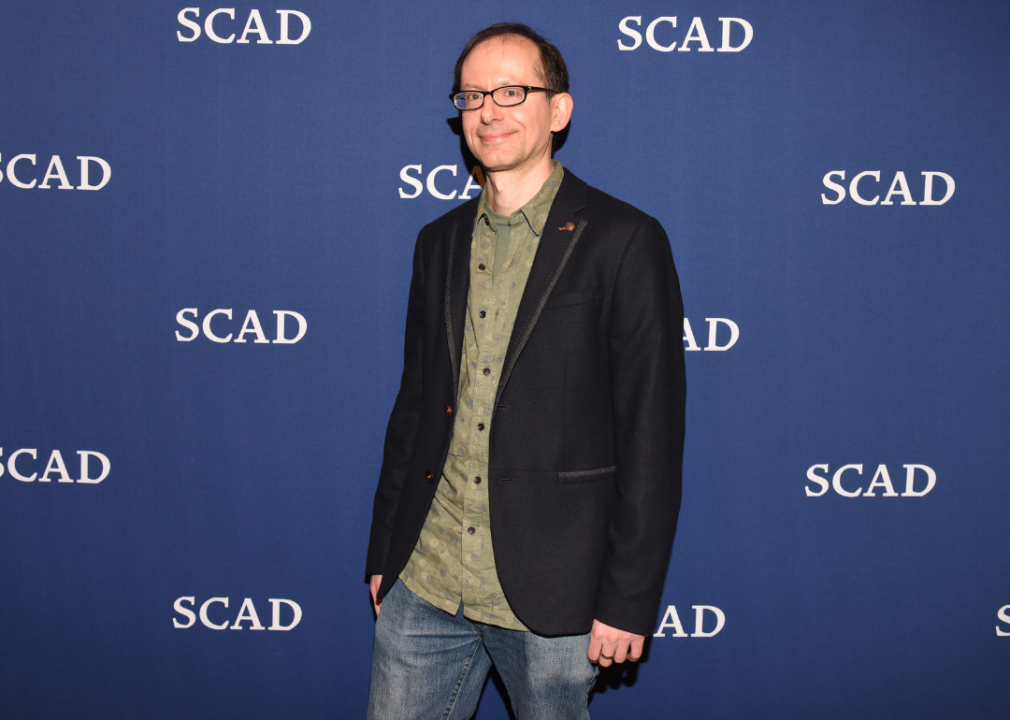 Vivien Killilea // Getty Images
In response to Ms. Krabappel's claim that she has never heard of the word "embiggen," Lisa's teacher, Miss Hoover, insists it is a "perfectly cromulent word." Writer David X. Cohen is credited with creating the word when instructed to develop a nonsense word that sounded real. As of September 2023, the word "cromulent" has officially joined its fellow neologism in the dictionary.
Jeep: 'Popeye'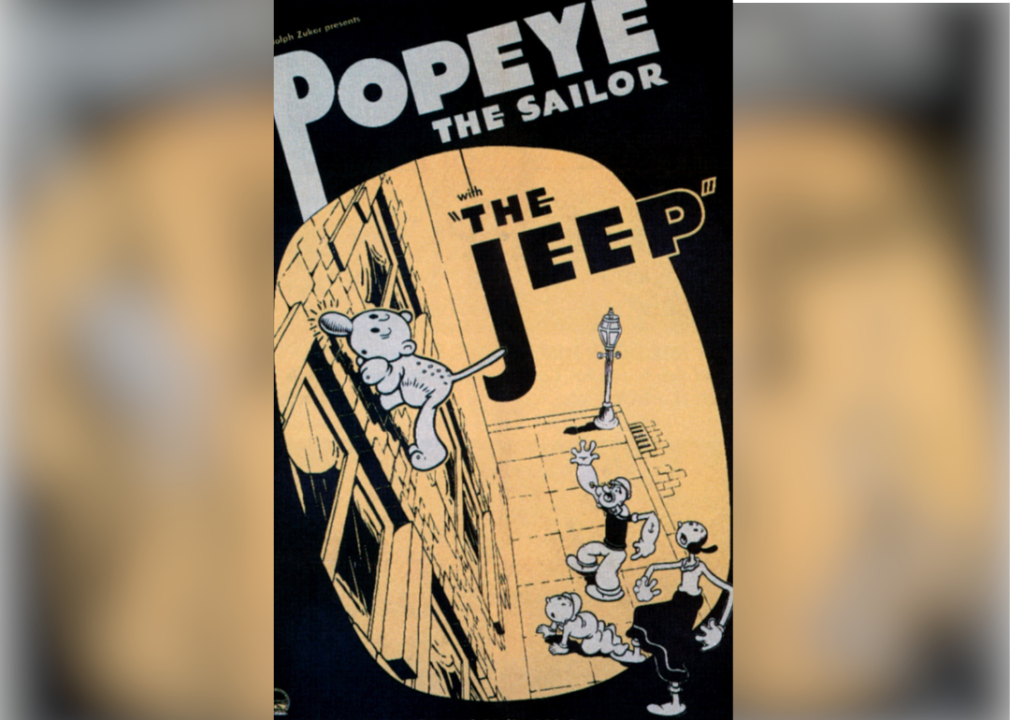 LMPC // Getty Images
Goons weren't the only "Popeye" characters to achieve immortalization in the dictionary. Eugene the Jeep, a yellow doglike creature with magical abilities, was first introduced into E.C. Segar's comic in 1936. Four years later, a versatile, off-road-capable four-wheel-drive vehicle entered the market, impressing consumers with its abilities.
While the origins of the modern car's name are debated, one prominent theory is that military service members nicknamed the vehicles "jeeps" after the "Popeye" character, as they both could go "anywhere."
Meh: 'The Simpsons'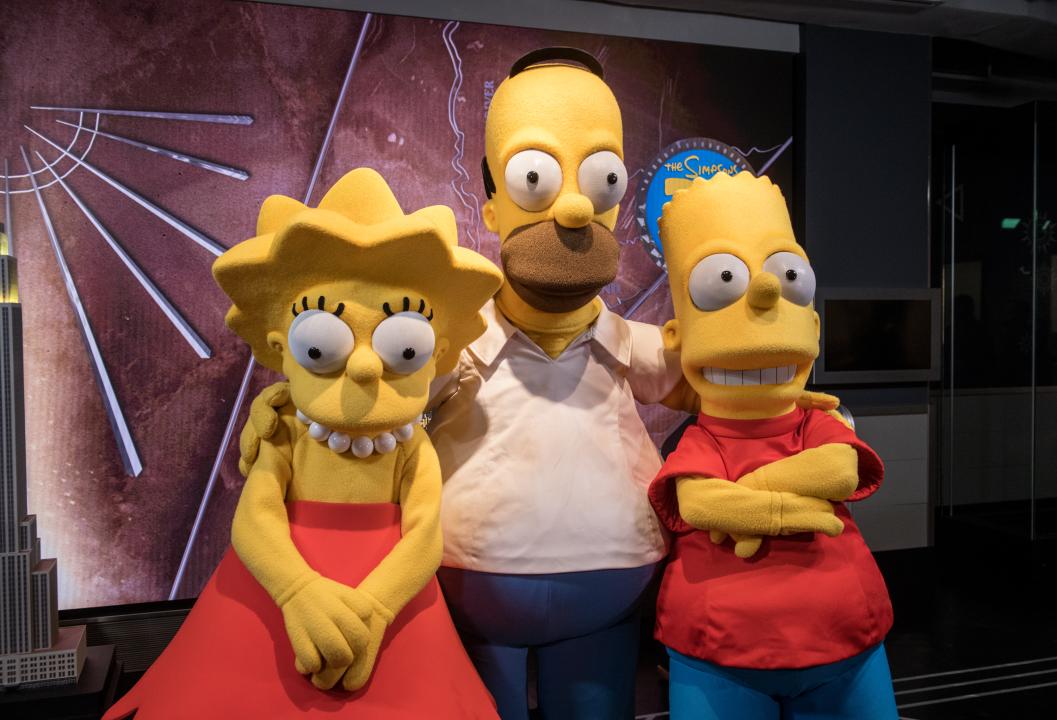 Noam Galai // Getty Images
Another "Simpsons"-attributed word entered the dictionary in 2009: meh. On Season 6, Episode 5, "Sideshow Bob Roberts," Lisa expresses confusion that voting records are not classified, to which the clerk offers the indifferent response, "Meh."
Comedic writer and novelist John Swartzwelder is credited with adding the word into the "Simpsons" script; however, he told The New Yorker in 2021 that he first heard the term from his then-creative director, Howie Krakow, and that he was unsure of its origins himself.
Nimrod: 'Looney Tunes'
LMPC // Getty Images
From its first use in the 16th century until the 1940s, the word "nimrod" has had various meanings. At times, it meant someone mighty and courageous, reflecting its biblical origins. Still, it could also connote a tyrannical person.
Then, in a 1948 "Looney Tunes" cartoon, Daffy Duck uses it while speaking to Elmer Fudd, referring to him as "my little nimrod." Bugs Bunny also used the word to taunt Yosemite Sam in the episode "Rabbit Every Monday."
The animated use seemed to establish the word's meaning for a younger audience; "Nimrod" transformed to mean a foolish person.
Doh: 'The Simpsons'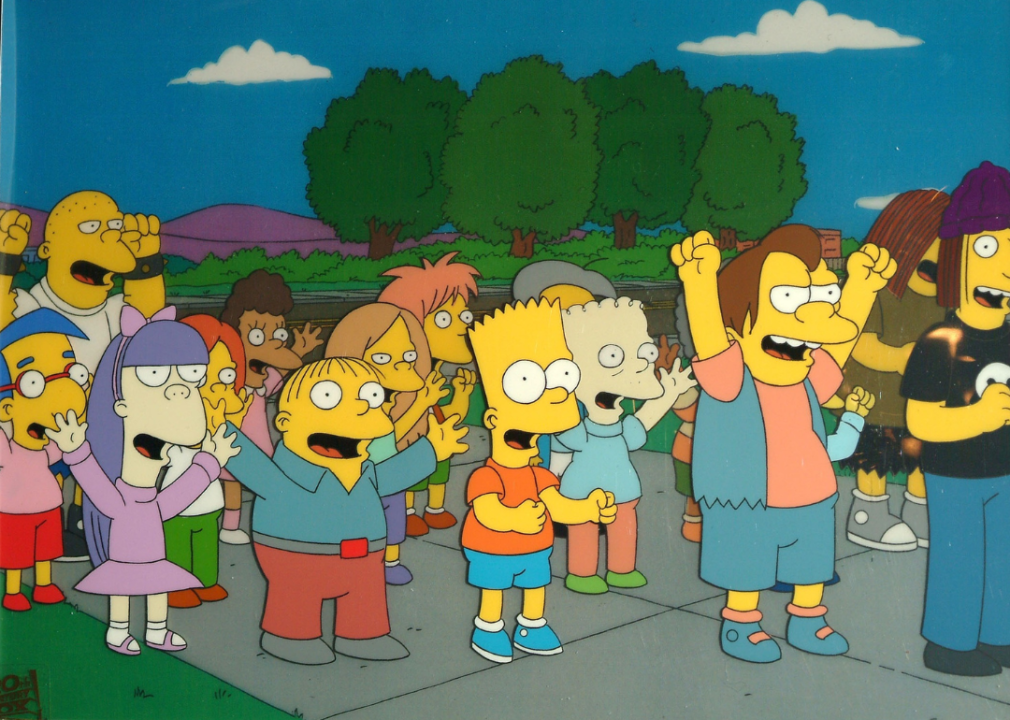 Michael Tullberg // Getty Images
Dan Castellaneta first uttered Homer Simpson's most famous catchphrase in 1989, when it was still featured on "The Tracey Ullman Show." Castellaneta took inspiration from comedian James Finlayson's grunt in the Laurel and Hardy films. However, it was "The Simpsons" that popularized the term to the point of entry into the Oxford English Dictionary in 2001.
Dumbbell: 'Indoor Sports'
Archive Photos // Getty Images
The word "dumbbell" has been used to describe the weightlifting device since the 18th century, but its form as an insult didn't come about until Tad Dorgan. The prolific cartoonist was well known for his comic panel "Indoor Sports," published between 1914 and 1929, and his propensity for inventing slang. In addition to dumbbell, Dorgan is also credited with introducing "cat's meow" and "twenty-three skiddoo" into the lexicon.
Malarkey: 'Indoor Sports'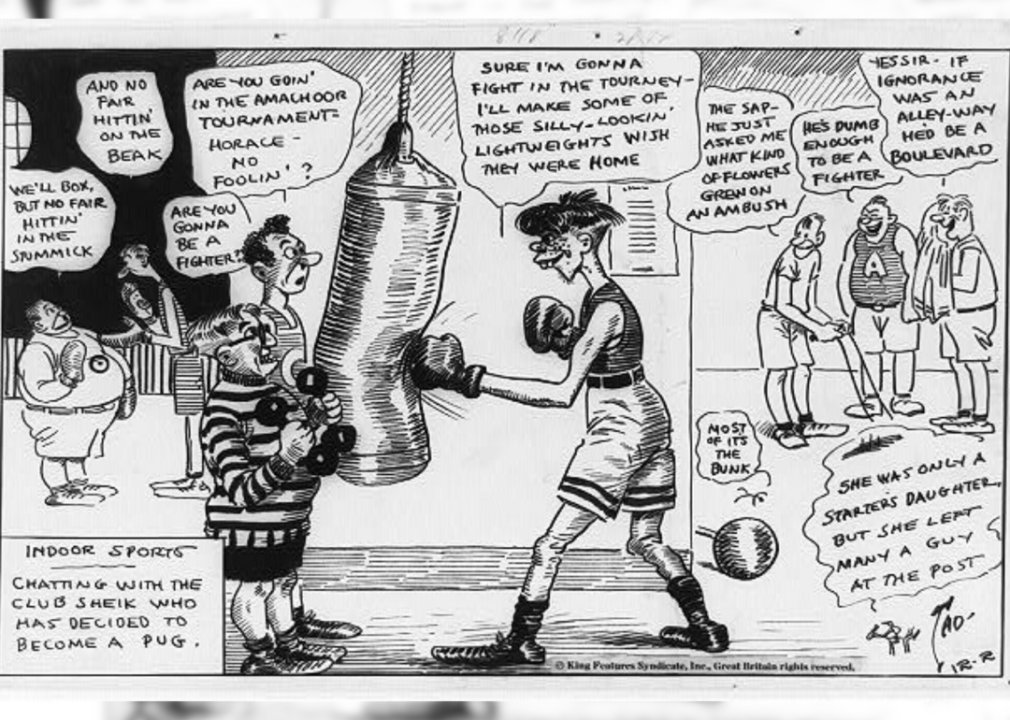 Library of Congress
The word "malarkey" has somewhat dubious origins, but one leading theory, again, points to famed cartoonist Tad Dorgan. In a 1922 edition of his highly successful series "Indoor Sports," the word "Milarkey" is used as a fictional place name. Two years later, he published another cartoon using "malachy" to reference nonsense.
Hard-boiled: 'Indoor Sports'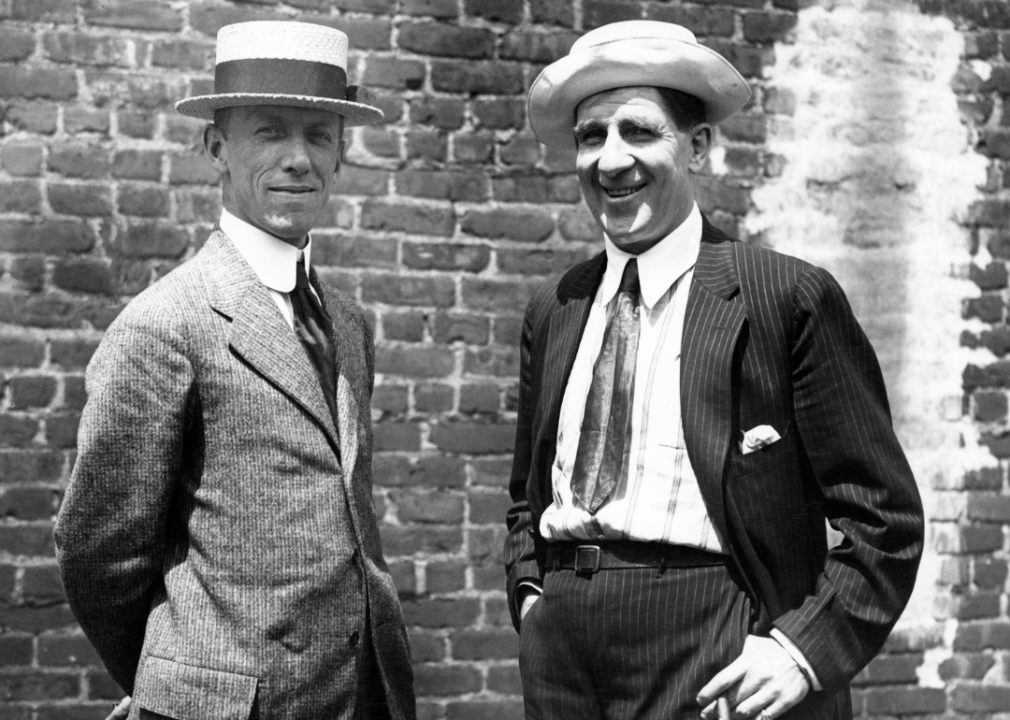 The Stanley Weston Archive // Getty Images
Hard-boiled, used to describe the egg-cooking style, has existed since 1723, though Mark Twain is credited with transforming the term to mean "hardened" in 1886. However, Tad Dorgan is credited with popularizing the latter version into the cultural lexicon.
Shazam: 'Captain Marvel' comics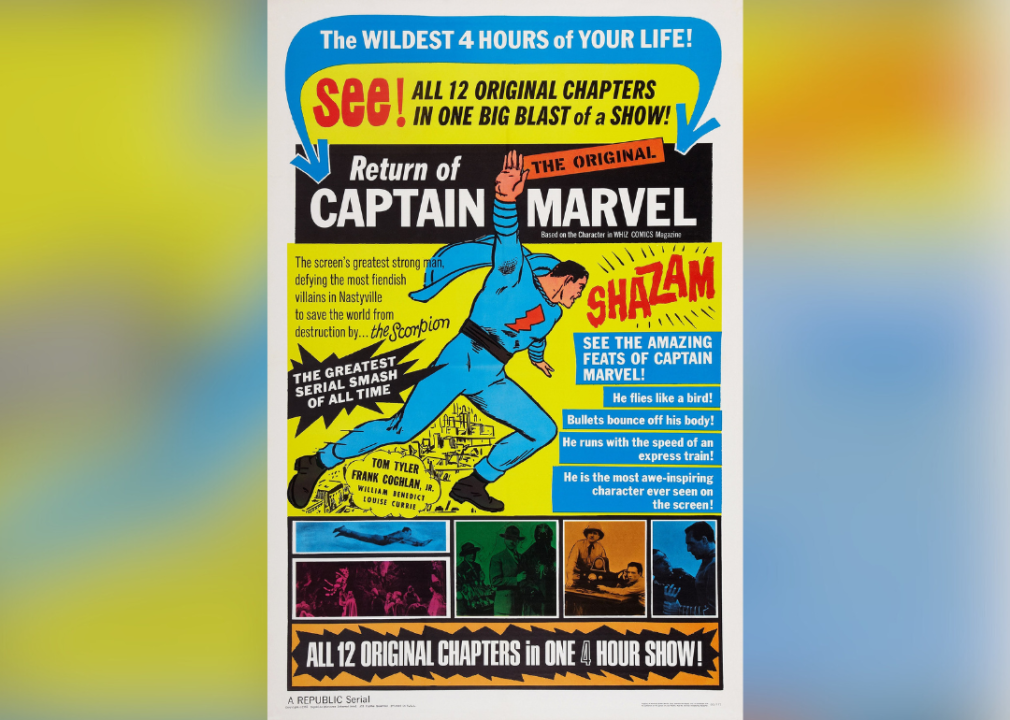 LMPC // Getty Images
The word "shazam" originated in a 1940s comic book created by writer Bill Parker and artist C.C. Peck, "Whiz Comics," which introduced the character Captain Marvel (nope, not the Marvel hero). The protagonist, Billy Batson, says the word to transform into a superhero with the powers of Solomon, Hercules, Atlas, Zeus, Achilles, and Mercury — the foremost letters of which spell out "shazam." Over time, the word has been used to describe a sudden, magical transformation.
Kryptonite: 'Superman' comics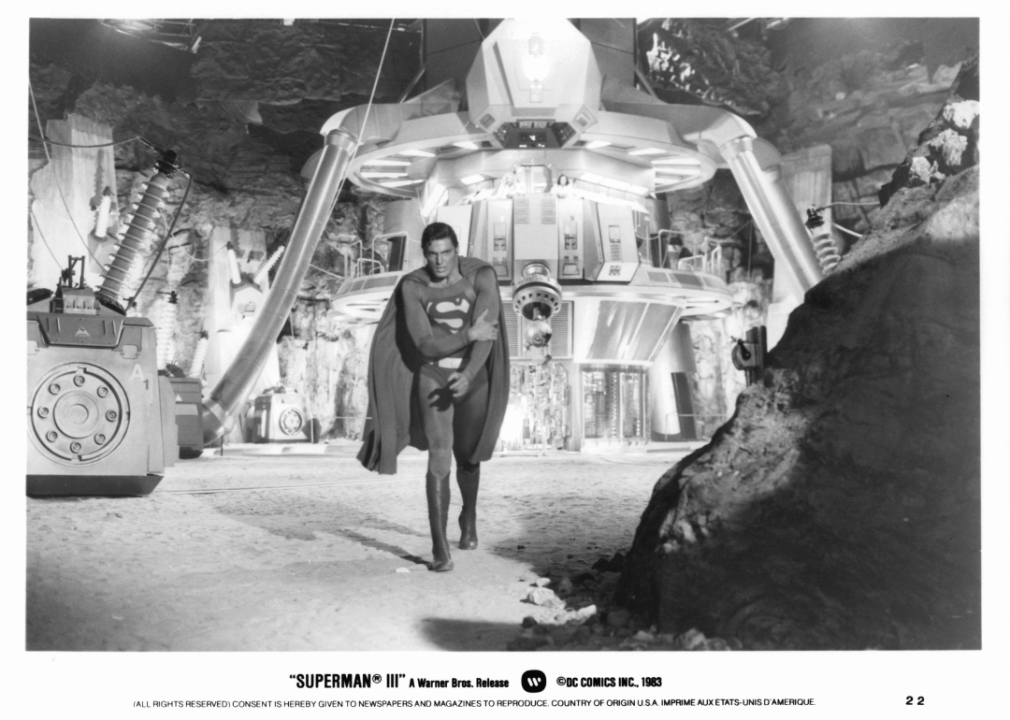 Archive Photos // Getty Images
The word "kryptonite" was first used in 1943, when it was introduced as the mineral that was Superman's sole weakness. Widely recognized as his Achilles' heel, the word became a modernized version of the latter by at least the 1960s. "Kryptonite" is now widely used to describe a person's unique vulnerability.
Cowabunga: 'Teenage Mutant Ninja Turtles'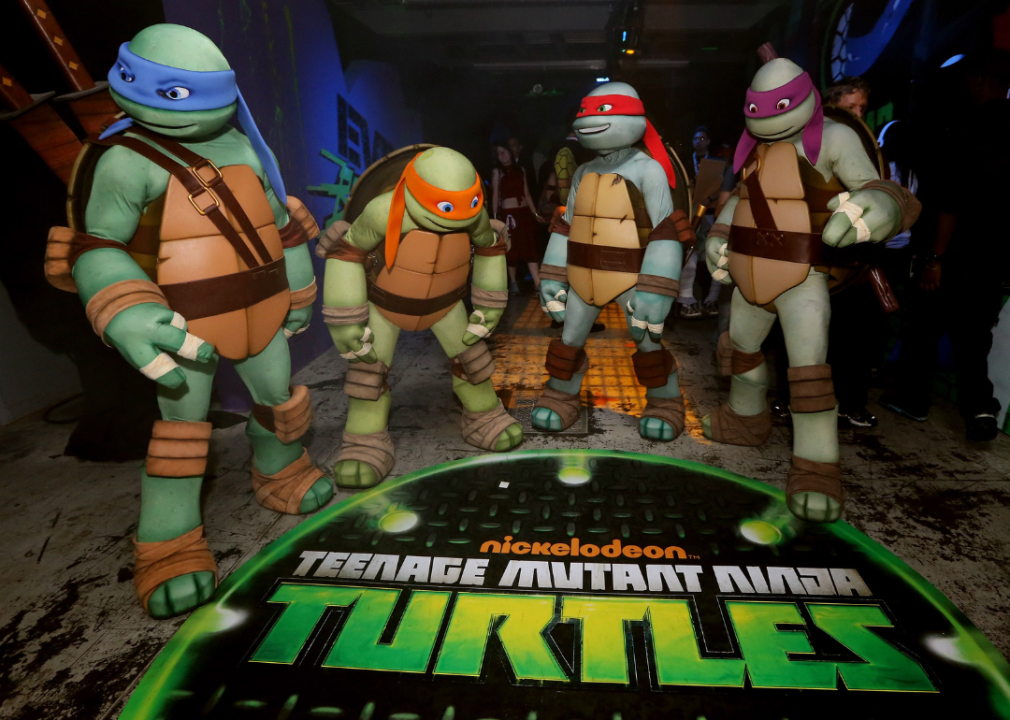 Neilson Barnard // Getty Images
The earliest known use of "cowabunga" is in "The Howdy Doody Show" in 1954, but the term did not gain prominence until much later. In the 1960s, the word was used frequently by surfers. The word expanded beyond surfer culture into the broader lexicon after "Teenage Mutant Ninja Turtles" character Michelangelo adopted it as his catchphrase.
Twitterpated: 'Bambi'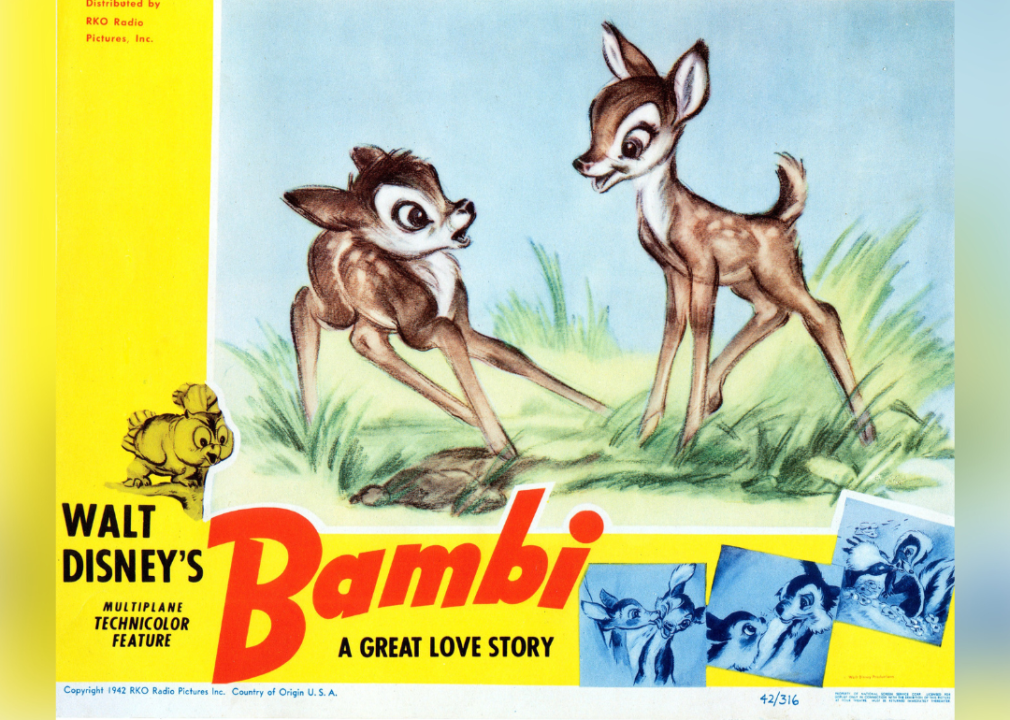 LMPC // Getty Images
The 1942 Disney film "Bambi" has made a lasting impact on pop culture—and not just because of its memorable title character. In the movie, Friend Owl uses "twitterpated" to describe the affectionate behavior of two characters deeply infatuated with each other. This term has now become synonymous with love-struck and besotted.
Story editing by Carren Jao. Copy editing by Paris Close. Photo selection by Ania Antecka.
---
---
---
---